Literate folk-pop that has a lot to say.
"

Lovely songwriting"
— Boston Globe
"

A born communicator... exudes intelligence and humanity."
— Music Connection
"

An incredible singer-songwriter right in our backyard."
— Program Director Marc 'Mookie' Mazcor, 88.5FM KCSN (Los Angeles)
SHORT BIO (182)
Arielle Silver is a consummate storyteller whose rich, expressive voice and acoustic guitar frame expansive melodies that echo her tours and travels across the American heartland. Raised on folk festival fields and synagogue pews, in woodsy and watery places up and down the Atlantic Seaboard and now based in Southern California, Arielle lives just a traffic jam away from the Pacific Ocean. After a decade break from performing music to focus on creative writing and Eastern philosophy, her fourth album, A THOUSAND TINY TORCHES (2020), is heard regularly on SoCal tastemaker station 88.5 FM, and was featured in American Songwriter and on PRX's Up Close And Acoustic. 
Her upcoming album, Watershed, is an earthy, luminous, and literate collection of songs about ordinary life's watershed moments. 
Arielle currently serves as Secretary for Folk Alliance Region West (FAR-West) Board of Directors. She teaches Creative Writing at Antioch University Los Angeles and for the International Women's Writing Guild, is producer and host of the podcast Tomes & Tunes, and co-owns Bhavana Flow Yoga, where she teaches daily Zoom yoga and leads retreats. She loves pie.
 ****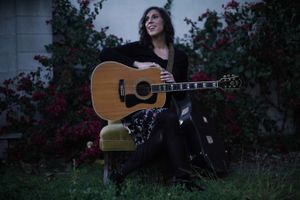 Performance Testimonials
"

Arielle Silver's presence commands attention from the moment she takes the stage, and her rich voice and strong delivery surround the audience with beauty and insight. Not to be missed."
— Jay Wilensky, The Folk Project (NJ)
"

A skilled songwriter, and her warm voice, fluid guitar playing, and stories between songs really draw the listener in. [Arielle] was a big favorite amongst our listeners at this year's festival."
— Todd Silverstein, Performer Coordinator, San Francisco Free Folk Festival
A THOUSAND TINY TORCHES (2020)